Aging in Place – How Technology is Keeping Seniors at Home Longer
Americans are growing older. Did you know that by 2030 the population of individuals over the age of 50 will surpass 132 million? And by 2035 the number of individuals 75 or older will reach 13.4 million? As people enter the later stages of life, new challenges like staying independent and remaining at home emerge. Today we want to focus on the power of technology and how innovations in the field of Gerotechnology, or Age-Tech, are changing the way elderly Americans age in place. And, more importantly, why offering solutions targeted at this aging population just makes sense.
What is Gerotechnology/Age-Tech?
The term refers to any type of technology or innovation that helps older individuals remain autonomous and improves their existing quality of life. Check out this great video by dwell magazine for a glimpse into the future of Gerotechnology.
The video above provided many great examples of how technology is going to help people age in place, but what is aging in place and why does it matter? Aging in place is a term used to describe an older individual's ability to live in their own home safely and comfortably while also remaining as independent as possible. According to a recent survey by AARP, 90% of seniors in America say they would rather live at home than anywhere else. Take a look at our State of Aging graphic below.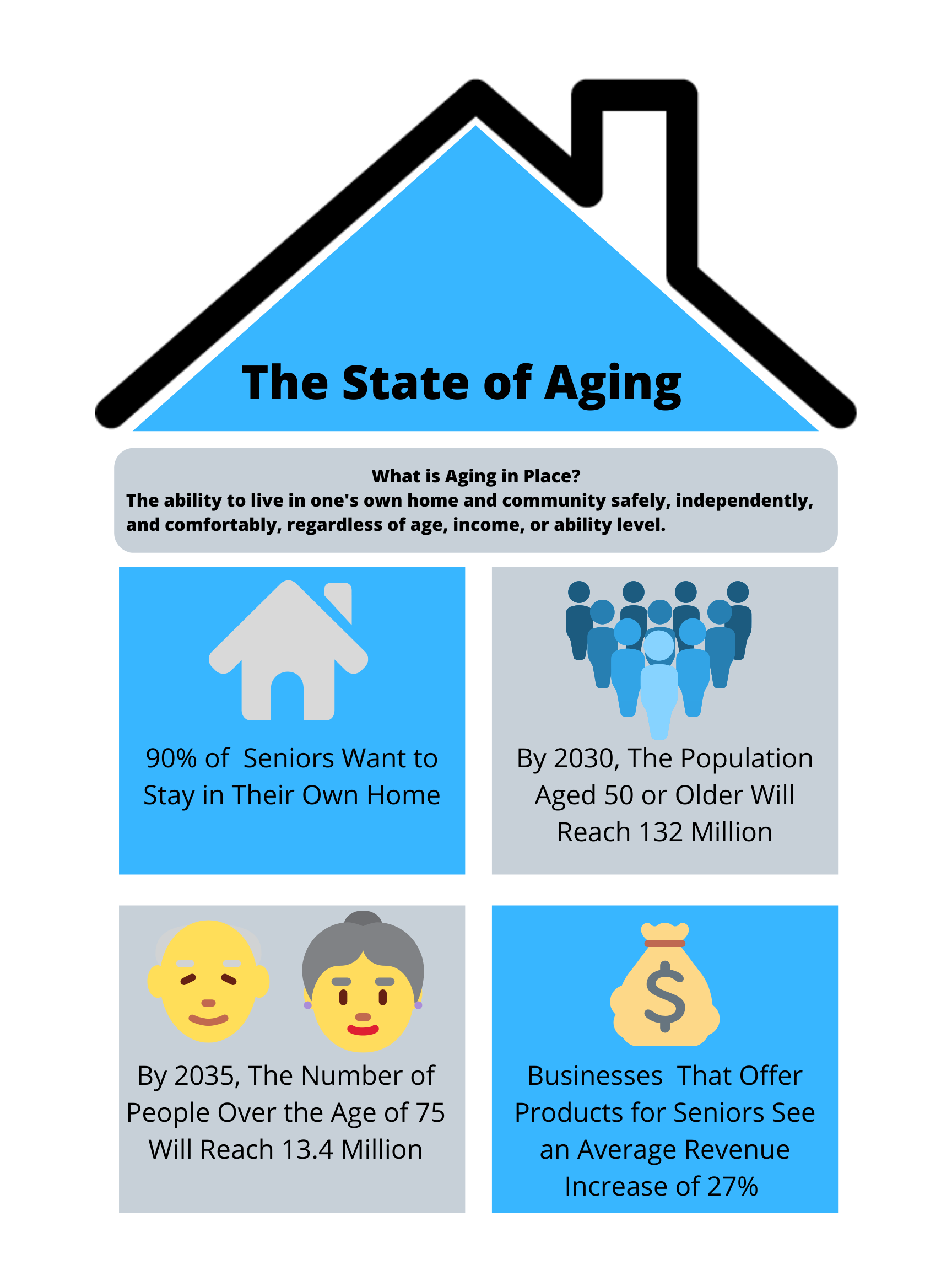 Aging in Place – The Opportunity for Solution Providers
Offering solutions that help seniors remain independent and have a higher quality of life isn't just good for them, it is also a great opportunity for solutions providers. As you see above, businesses that offer solutions for seniors in addition to their core products, see an average revenue increase of 27%. Considering the current senior care market is expected to be valued at over $225 billion dollars, and seniors contribute over $7.6 trillion in economic activity (CNBC), this is a market you definitely want to serve.
How Family Safety Technology Helps Seniors Age in Place
At Smith Micro we believe in creating meaningful solutions that address today's most pressing issues, senior care included. Our robust family safety platform SafePath® enables aging in place with powerful, yet easy to use features. As Dwell Magazine mentioned in the above video, successfully aging in place with technology will require simplicity and ease of use. SafePath's features help seniors feel empowered and enable them to stay at home longer. These features include:
Family Location- Locate family members in real time using your smartphone app or the web.
Geo-Fencing- Create virtual fences for loved ones around defined places such as home, work, doctor's offices or more. Get notified when family members enter or leave the designated areas.
Check-Ins- Send location notifications to family member to let others know where you are, and that you have arrived safely.
SOS Family Alerts- Family members can easily send an emergency alert with their exact location to everyone in the family.
To successfully age in place it will require solutions that connect not only the home, but family members and care takers. Our SafePath platform does just that by removing the distance between family members and their fiercely independent loved ones. To learn how SafePath can help your customers connect everything that matters and make sure their loved ones are safe and active, contact us or schedule a demo today.