Addressing Age Assurance: Key Takeaways from FOSI's Annual Conference
On November 14, the Family Online Safety Institute (FOSI) held its  2022 Annual Conference with the theme, Trust & Assurance: Online Safety in an Uncertain World. Our VP of Product Management, Anup Kaneri, had the opportunity participate in a panel discussion that addressed Innovation and Awareness: New Solutions to Online Safety panel. FOSI provided a robust collection of sessions on topics relevant to the digital family safety market and its challenges and opportunities, including a conversation about age assurance. Here are our three main takeaways.
1. Parents protecting their kids online is an ongoing journey
Addressing the questions and concerns associated with digital life is not a one-time event for parents and children, but rather an evolving process that parents must actively manage over time. As children get older, both their online interests and need for independence change and grow, and conversations must advance along with them. This ongoing oversight takes time, with parents reporting that they spend multiple hours per week monitoring their children's online activities (Figure 1). This monitoring can create tension for at least some parents as they strive to balance responsible supervision with intrusion.1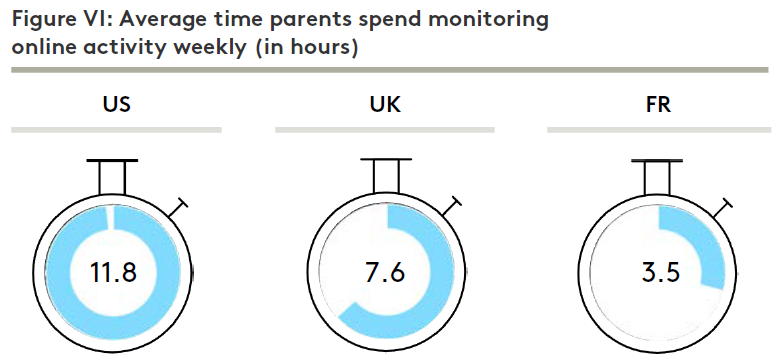 The SafePath platform was built to grow with the family and its ever-changing needs, whether it's adding more members to the Family Hub, more devices to a family member's profile, or adjusting the parental control settings as children age and mature.
2. Data collection should be used to help, not harm, children online
Many parents link anonymity to their idea of online privacy, which is most pronounced in France, followed by the US and UK. This focus on anonymity could be a positive indicator for the continued rise of age assurance methods such as age estimation, where for example, facial features are scanned for accuracy within an age range, without a connection to identity or personal information. Children were less likely to consider anonymity an essential part of privacy, but with some clear distinctions among the three countries.1
Smith Micro understands that protection doesn't end when harmful content is blocked from a child's view when browsing the internet; the same data that we use to protect that child needs to be kept out of the hands of companies that will use it in a harmful way. We ensure the data is only kept for the time needed to protect the child and is never shared with or sold to third parties.
3. Lawmakers have their work cut out for them
There is still global debate amongst governments on how to best protect children online while balancing the need for privacy. As recently as this week in the United States, the bipartisan Kids Online Safety Act (KOSA) is being called into question by civil society groups, claiming that the very protections put in place by the Act could also do harm to those intended to be protected by it; more data collection on minors is just one concern. In the EU, the Digital Services Act (DSA), which is designed to protect the digital space against the spread of illegal content and ensure the protection of users' fundamental rights, was approved on October 4, 2022. However, the Act was initially announced by the European Commission in December 2020, and most of its provisions will not take effect until 15 months later.2
Smith Micro continues to follow domestic and international legislation so that we can make our digital parenting solutions safe, effective, and most attractive for everyone.
---
1. FOSI 2022 Research Report – Making Sense of Age Assurance: Enabling Safer Online Experiences
2. ComputerWeekly.com – EU rolling out measures for online safety and AI liability